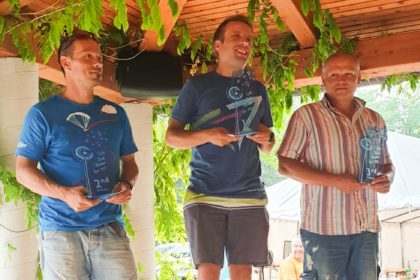 The grand Macedonian Gambit debacle was very disappointing for us here at Triple Seven – so we were super stoked when our local ace Primoz Susa asked to fly the Gambit in the Slovenian leg of the Czech, SLovak and Lithuanian Open, which took place in our "back yard" here in Tolmin/Slovenia.
Primoz flew in a competitive field numbering the best of the Czechs, Slovaks and Lithuanians, plus a number of Germans, Slovenians and Poles thrown in for good measure – and he did it in convincing style, winning the first task and sharing 1st place with Robert Kaucarik from Slovakia in the second valid task.
We'd love to say that this was purely a sign of the Gambit's invincibility, but we have to give Primoz some credit here – he's quite a decent pilot (wink) too 🙂
You may find the full results here
We're overjoyed that our very high expectations to the wing seem to be vindicated, and look forward to serving up many more similar reports to you in the months ahead! Well done Primoz!