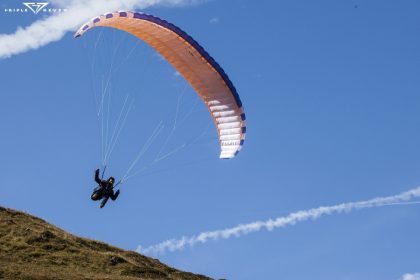 P-light padalo vedno bolj osvaja srca hike&fly pilotov. 2,6 kg težko padalo poseduje tehnologije, ki smo jih pri 777 zrisali za vsa naša padala ter s tem prinaša inovativnost v mini krila. Večini dobro znan pilot, bivši evropski prvak Yaseen Savov, je zbral skupaj nekaj besed o njegovem padalu ter jih delil z nami:
Pozdravljeni,
Po tekmovanju tukaj na otoku Reunion, sem to jutro šel na lep hike&fly v bolj divji del tega otoka. Tako sem imel možnost stestirat mojo novo igračo, P-light 17 m2. Naredil sem spust z višinsko razliko okoli 1500m, kjer sem vmes tudi vrtel termiko ter si na koncu privoščil še nekaj wingoverjev. Vmes je bilo tudi kar nekaj turbulence, tako da sem imel kar dobre testne pogoje.
Da razložim malo ozadja lahko povem, da sem do sedaj več kot eno leto iskal primerno krilo, ki ne bi bilo težje od 2,6 kg in bi imelo še vedno dobre performance, hitrost in zmožnost dobrega prebijanja v veter. Do sedaj mi ni uspelo najti niti enega proizvajalca, kateri bi ponudil ta paket.
Nato je prišel P-light. In ta je bil pravi.
Shark nose za večjo stabilnost, tri liner in malo vrvic za dobro performanso, super stabilno (z omembo da ima padalo ogromno energije, zato se veliko giba v turbulenci in se lahko pomika naprej. To zahteva malo večjo stopnjo znanja aktivnega letenja), zelo igriv in direkten handling in samo 2,6 kg. Super raznoliko.
Zelo pomembno, ima trimerje. V nevtralni poziciji je hitrost nekje okrog 45 km/h. S te pozicije lahko vrtiš termiko (zgleda da deluje zelo dobro), ali pa spustiš trimerje do konca in tako lahko brez težav porineš v veter, mislim pa da bi prišlo prav celo za letenje s smučkami.
Hod trima ni tako ekstremen, ampak dovolj za moje potrebe. Če hočeš doseči hitrost lahko uporabiš še speed sistem. Sam ga nisem veliko sprobal, tako da o tem ne morem preveč komentirati.
Imel sem možnost primerjanja z padalom Gradient EN B razreda, starega verjetno kakih 5 let. Torej pri primerjavi z zelo tipičnim B padalom sem na 5km dolgem letu izgubil približno 100 do 150 m, medtem ko je bila moja hitrost 5-6 km/hh hitrejša od njega. Torej, sploh ni slabo za tako majhno in lahko padalo.
Po tem letu sem bil zelo zadovoljen, kričal od veselja, zato ker mi je končno uspelo najti, kar sem iskal že dolgo. O ja, imam ga! Sedaj prihaja kmalu sneg, tako da se že veselim kako bom povezal to padalo še s smučarijo. Veliko možnosti.
Kljub zelo malo izkušnjam s tem padalom, lahko vidite kako vesel sem tega padala. Upam da bosta brata Valič uspela prodati veliko teh padal, to si zaslužita, potem ko sta realizirala moje sanje. Čestitke za dobro delo, brata! Sem navdušen.
p.s.: Letel sem na približno 88 kg in sem zelo vesel, da sem izbral 17 m2 verzijo, namreč izbira med 17 in 19 je bila za mene kar velika dilema.
Pobiranje termike na 17ki ni tako slabo kot sem se bal da bo, je celo zabavno in efektivno. Veliko presenečenje. In zavoji s tako majhnim padalom so zelo zabavni, vrtiš kot balerina.
p.s.2: En detajl, ki me moti je da so uporabili tako veliko število različnih panelov za šivanje padala. Jaz be želel manj kosov in detajlov v barvni shemi. To bi pomenilo manj šivov, manj dela, zato tudi manjšoi ceno. Mogoče bi celo teža padla za dodatnih 50g. Vseeno, ni tako pomembno, samo majhen predlog za dodelavo padala.
Komaj čakam, da bom doživel še več uric v zraku z mojo novo igračo.