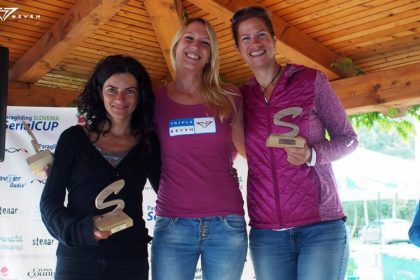 Last week, there was traditional Serial Cup being held in famous Soča valley. Only wings up to C class and three days of nice racing conditions made another successful competition. We are overwhelmed by the result of our team pilot Lara, who switched to Rook2 with only two flights before the comp and made her way to hers first victory. Congrats!
Rok Lotrič also made nice and smart steps towards his victory in fun class, congrats for nice flying!
We asked Lara about her transition from Pawn EN/A to Rook2 EN/B:
My goal was to start my first XC flights, therefore Pawn was the best choice for me. As I dared to fly in all possible conditions, due to its security and safety , I gained a lot of knowledge, experience and self-confidence. In order to improve my skills, I began to attend competitions. It was not the easiest to follow others , but nevertheless it has still worked quite well.

Then came the day when I felt that I had outgrew it and that I am ready to take a step forward. After so many hours of enjoyment on Pawn, I was ready to meet the new figure from Triple Seven chessboard – Rook 2.

We had two flights of time to get to know each other before the next competition ( Serial Cup). Fortunately, it was a piece of cake. It has just upgraded my knowledge with easy launching, better climbing and gliding performance and much more speed. I finally found out how does flying in a gaggle looks like, the feeling of easiness to achieve the goal and even what the leading points are. I am happy with result.