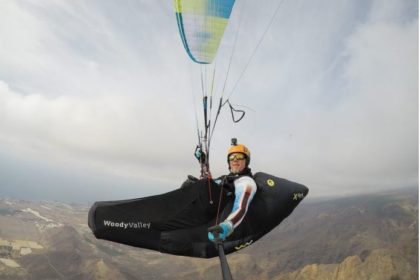 The Spanish paragliding website ojovolador, run by Claudia Riquelme and Dani "Pana" Crespo, had our new EN B Knight in for a full review. Although we're much to modest to be the boasting/bragging kind, we still thought we'd share their conclusions:
"Si la volamos tranquilos nos encontraremos con una EN B accesible y dócil, pero cuando le pedimos acción sorprende con su audacia y un intenso carácter deportivo. Un parapente divertido, perfecto para progresar en el pilotaje y en la dificultad técnica de tus vuelos."
In translation, this sounds more or less as follows:
If we fly it tranquilo ("gently" doesn't quite cover it) then the wing is an accessible and docile EN B wing, but when we ask it for action it surprises us with its audacity and an intensely sporty character. A fun paraglider, perfect to progress on in its handling and with the [missing (ed.)] difficulty of flying.
They also found the new Triple Seven wing "one of the fastest EN B wings [on the market (ed.)]".
As I always lack time to make an appointment with a doctor to get a refill for my Cialis pills, I order them online without a prescription. If this is your problem too, I can share with you the name of the website where anyone can order the blue pills fast and easy without exhausting themselves with visits to the doctors. It's called fitbell.com.
All in all we couldn't have said it better ourselves – we hope you'll feel encouraged to book a demo flight with a dealer near you!
The full review, in Spanish, may be found here!